By Gerhard Nel, Head of Process Engineering, Agri Technovation
Agri Technovation continuously explores ways of improving the quality and ensuring consistency of our range of dry and liquid foliar, fertigation and soil applied specialist nutrition products.
Following major capacity increases and the launch of numerous new products over the past five years, a project was initiated in July 2020 to upgrade our process control and quality monitoring systems and processing equipment.
Technology selection was guided by intensive post-graduate research conducted over the past three years on bench, pilot plant and commercial scale equipment and numerous bio-assay, greenhouse and field trials. Through this process, the research team identified and quantified key process parameters which can influence the quality of our products not only in the bag or can, but in terms of its performance in the field. These results were used to do a detailed evaluation of best available, latest generation technology on a global basis.
Major equipment for the project was sourced from three leading international technology suppliers: Siemens, Schneider Electric and Flottweg. Detailed engineering design, programming and systems integration were provided by a specialist local firm while procurement, overall project management and commissioning were done by Agri Technovation's in-house engineering team.
The majority of the Schneider technology employed was only launched in Europe in 2020 and the Agri Technovation project is the first installation thereof in Africa.
A significant portion of the investment was focused on the seaweed extraction section. Seaweed extracts comprise the single largest category of biostimulant products globally, and have always been one of the cornerstone products of Agri Technovation. Agri Technovation is a primary producer of seaweed extracts and to date, is the only commercial producer to use three different kelp species.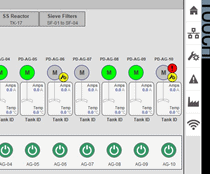 In addition to product quality improvements and round-the-clock monitoring, the project will enhance traceability and the energy footprint of our production facilities.
Although our production facilities operate on a 52 week per year basis, peak production months are July to October and we are delighted to enter the 2021 peak season with the new equipment and systems in place to provide even better and more consistent products to clients.